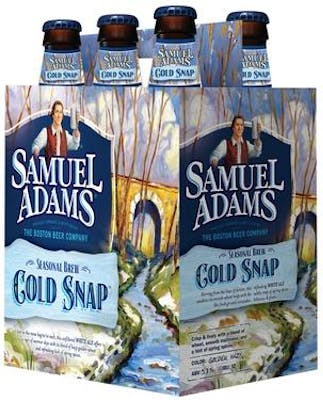 SKU: 18743
Samuel Adams Cold Snap
---
---
Crisp with a smooth finish. Golden and lively. The crisp character of this lively unfiltered White Ale gets a kick from a bright blend of spring spices. Orange peel and plum add subtle sweetness, while coriander contributes a peppery bite, creating a refreshing flavor that signals spring is on its way. Pair with Small Plates: Empanadas, Salads, Mussels. Entrees: Sushi, Curry dishes, Grilled Chicken. Desserts: Spiced cakes with ice cream, Cookies.
Stirring from the haze of winter, this refreshing unfiltered White Ale awakens its smooth wheat with the bright snap of spring spices. From the subtle sweetness of orange peel and plum to the peppery bite of fresh ground coriander, the blend of spices creates just the right refreshing kick to signal that spring is on its way.

Are you 21 years old, or older?