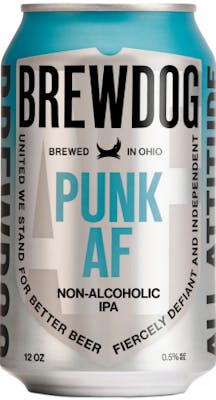 SKU: 25958
BrewDog Punk AF IPA
---
---
Non-alcoholic near beer just got punked up. Say hello to the punkest non-alcoholic near beer in town. Juicy tropical fruits mixes it up with grassy and pine notes, all sitting on a solid malt bassline. 20 calories. 2.3g carbs. Beer with an ABV of 0.5% and under.
At BrewDog, we are on a mission to prove that alcohol-free does not equate to taste-free. And today we bring you a new alternative to the mainstream. A beer for those seeking a point of difference at 0.5% ABV that brings all the attitude of our flagship, all of the flavour - but none of the alcohol.
Are you 21 years old, or older?
-->