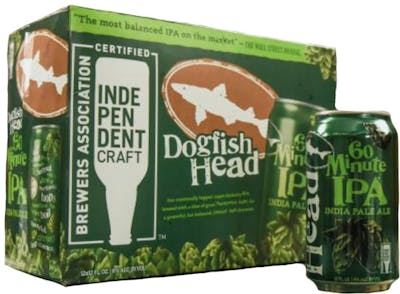 SKU: 21600
Dogfish Head 60 Minute IPA
---
---
It's hard being the sequel, unless you wrote the original story. Inspired by the continual hopping process we invented with 90 Minute IPA, 60 Minute builds on that one-of-a-kind process and flavor, crafting a solid gold hit that's found its own identity. Brewed using a boatload of intense Northwest hops, we boil this continually hopped IPA for a full 60 minutes, adding more than 60 hop additions continuously to create a bold and timeless flavor. Continually hopped to deliver a pungently, citrusy, grassy hop flavor without being crushingly bitter, 60 Minute IPA is a surprisingly sessionable IPA for the craft enthusiast. Experience: Golden amber color. Hop-forward with piney & citrus notes. Hoppy with moderate bitterness & crisp finish. Crisp with slightly lingering bitterness. Pair with spicy foods, pesto, grilled salmon, soy-based dishes, pizza.
Smells enticingly of rose petals, tangerine, orange zest, grass and nutmeg; later on, the tangerine-orange combo takes charge. The palate entry is squeaky clean, hoppy and tart; the midpalate is long, deep, and engagingly cereal-like. Finishes harmoniously, with a trace of pine or cedar. - P.P.
Are you 21 years old, or older?